Perfume & Macarons in Belgravia
---
Macarons meet heavenly scents in belgravia at the RE-opening of the stunning les senteurs flagship store
We were over the moon to be asked to supply our Macarons for the opening of this stunning store in Belgravia two weeks ago!  It was a marriage made in heaven!
When we were contacted by Helen McTiffen PR for Les Senteurs to see if we could help with this event we couldn't wait!  The thought of making Macarons in nine different colours and matching the flavours with the wonderful system that Les Senteurs use was a real challenge….and we LOVE a challenge here at Maison des Macarons!
Three decades ago when Betty and Michael Hawksley had the revolutionary idea to open a boutique so unique in its purpose and approach, little did they know that Les Senteurs would change the face of British Perfumery and become such an institution in the fragrance industry.
Today, the concept of the family owned store remains the same, to curate an offering of the very best lesser known fine fragrances and scented goods, combined with expert advice and exceptional service. Legendary brands such as Annick Goutal, Byredo, Creed and Diptyque all chose to debut at the iconic store and blossom into the more widely sold brands they are today. More recently, Editions de Parfums Frederic Malle, Mona di Orio, Parfumerie Generale and Tauer Perfumes have all chosen Les Senteurs for the same reason.
Les Senteurs is the oldest independent perfumery in London.   It is also an absolute delight for the senses.  With none of the hustle, bustle and noise you find in a department store,  you can gently while away some time choosing the scent of your dreams.  There's also always someone on hand to give you a little guidance.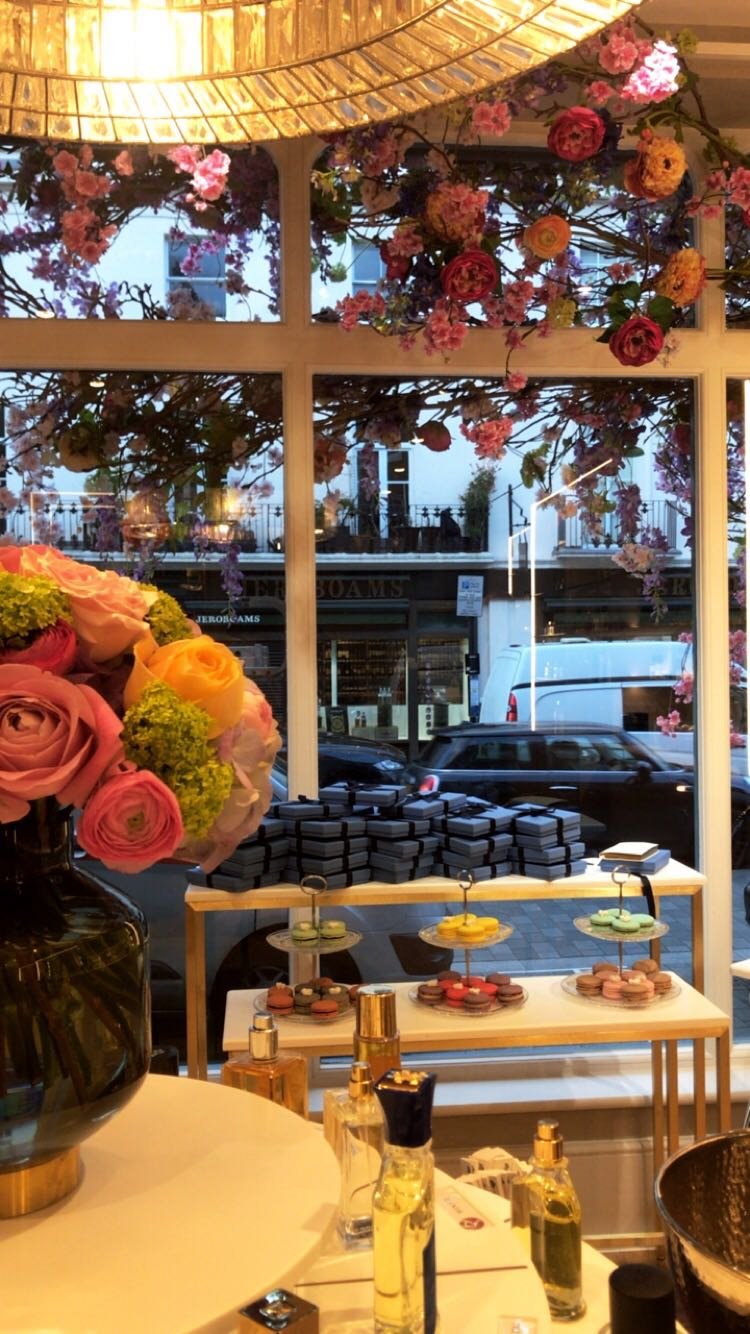 Macarons meet perfume
Les Senteurs have this brilliant perfume system that sits perfumes in one of nine different categories.  It's perfect to help you select the perfect perfume for you.  Ranging through Aquatic, Chypre, Leather and many more – we were tasked with matching flavours to these categories.  That idea was perfect for us – we LOVED it!  Out came The Flavour Thesaurus, readily thumbed in our macaron kitchen.   We love making up unusual flavours to sit alongside some of the more usual.  Bring on the Cardamon, bring on the Jasmine & Rose….they're all in those perfumes and perfect for a Macaron  too.
Magical Macarons
Once we had all agreed on the nine flavours, we matched the colours of the Macarons to Les Senteurs colours for their Perfume System.  We were ready to go, but not before we also made some gorgeous little white rosebuds to sit on the top of some to completely match their logo.
Branded Macarons are such fun to make and it's always fabulous if we can put those extra special touches to them.
The big day!
As always, we never trust a Macaron to the post, or a courier!  As hard as they might try, macarons are very delicate little bundles of scrumminess, so we always deliver by hand.
The shop was nearly ready, perfume bottles filling the shelves of this gorgeous shop.  The flowers outside……beyond amazing!
Finally, Elizabeth Street is full of gorgeous places to discover, eat and shop!  With Peggy Porschen Cakes on the corner too,  a perfect stop. So go and shop for divine perfume and top it off with a cupcake and a cup of soothing tea.
Looking at the posts on Instagram the Macarons were pretty well received too!  Consequently, we were delighted.
Can't wait to buy my next bottle of perfume….I know where I'm off to.
For further information on Les Senteurs do contact : Helen McTiffen e: helen@helenmctiffenpr.co.uk m: 07429 921 807
www.lessenteurs.com
www.peggyporschen.com