FINEST HANDMADE MACARONS
Here at Maison des Macarons we pride ourselves in making some of the finest handmade Macarons in the UK.
We have based our recipes on those of the legendary Macaron King Pierre Herme. Our finest handmade macarons make wonderful gifts which we can deliver by Special Delivery post anywhere in the UK.
We use only the finest ingredients which include Belgian chocolate of at least 70% together with our own fruit purees, curds and caramels for our ganache fillings, wherever possible, from locally sourced fruits. We also pride ourselves on making larger than average Macarons full of delectable scrumptious fillings for those extra moments of delight.
One of our specialities is making gorgeous Wedding Favours, Macaron Towers, both with cake bases, flowers… and without! The beauty of the Macaron is that it can be co-ordinated to the theme of your special event, whatever it is, wedding, birthday, or any other celebration and, apart from that, it is the most delicious little morsel of tastiness!
We produce a fabulous range of Macaron Wedding Favours here at Maison des Macarons with co-ordinated labels and ribbons from a box of one to a box of three! You can also have more if you want to! These little packages are just perfect for adding that little touch of chic to your event be it wedding, birthday….or just because!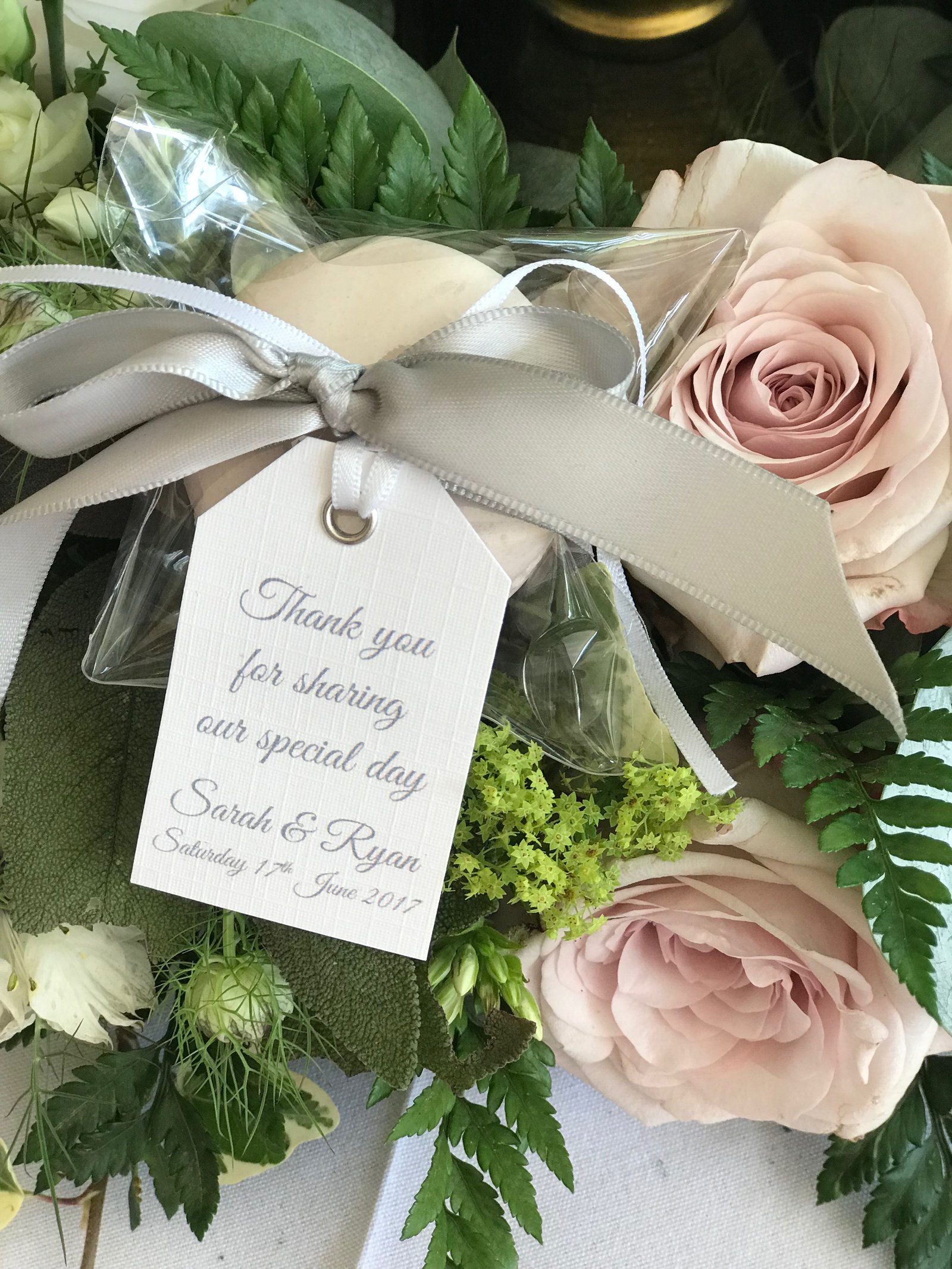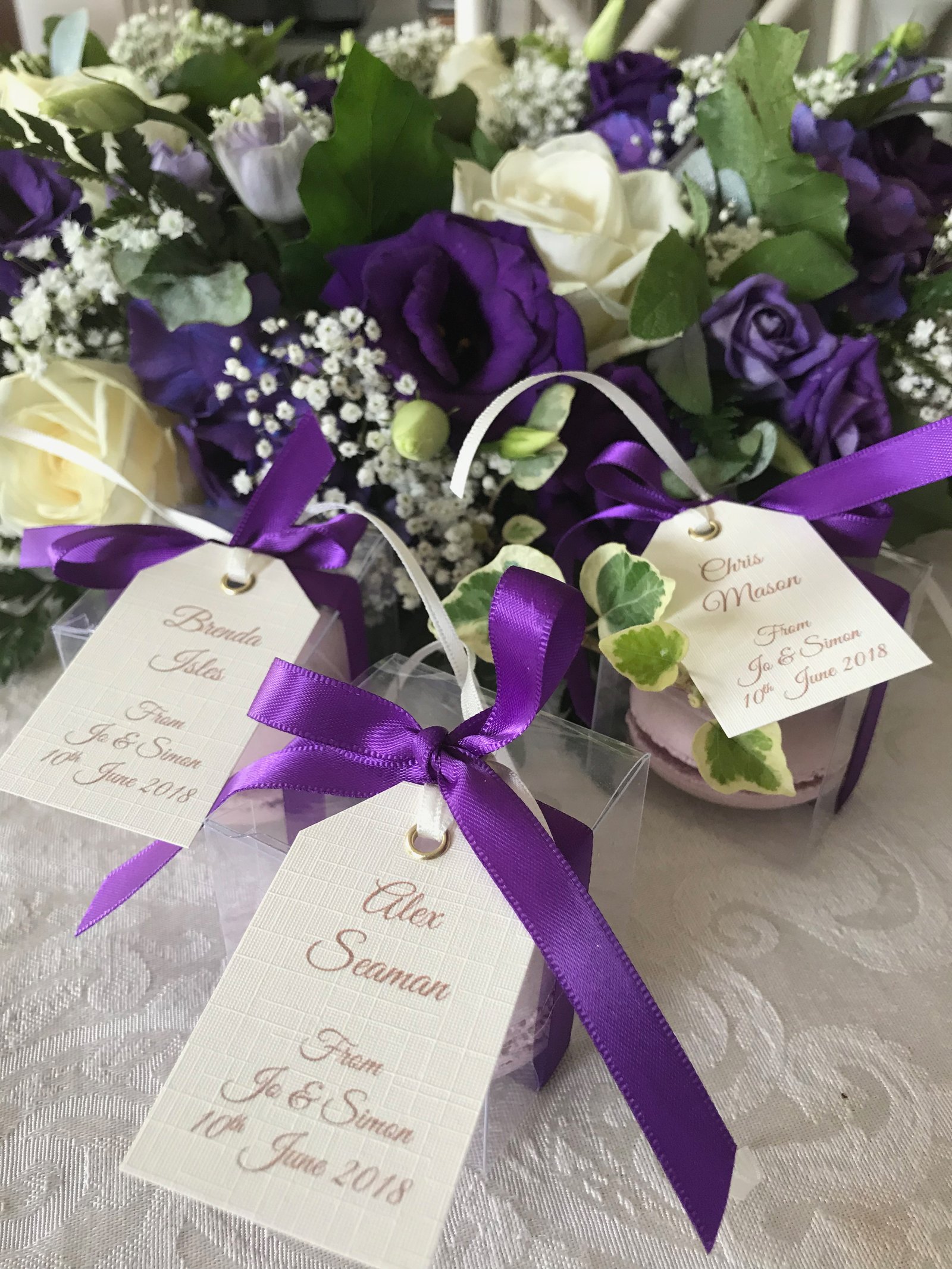 If you would like us to create you a gorgeous Dessert Table – we can do those too! We can create and supply a spread of different gorgeous morsels of delight to bring that special wow factor, visually and tastily!
Finest handmade macarons
We also produce four styles of stunning Macaron Towers. These can be seen on the Macaron Tower page – they come in four different styles. We suggest 65 Macarons to be the minimum number for a Macaron Tower although our Italian Bella Perle (Glass Plate) style can work with only two levels holding 40 macarons – these make a wonderful special birthday cake. However, they can also be made up to 9 layers holding an exquisite 180 Macarons for that real wow factor. Add into that some floral rings and a small cake topper and you have something totally spectacular! At Maison des Macarons we also make the Traditional Pyramid Macaron Towers with up to 10 layers – these hold around 180 Macarons – we have photographs of all these on this site.
Our Macarons can also be finished with Edible Pearls, Edible Crunch, Edible Rose Petals and Edible Gold or Silver Leaf and much much more – there is no end to what can be done. The Macaron Towers not only make stunning Wedding Cakes, but also are a spectacular addition to the Dessert Table and are fabulous for Hen Parties, Baby Showers, Mehndi Parties…the list is endless.
We also supply for that "special" occasion cake, eg., birthday or anniversary a smaller version of our Macaron Towers with a cake base.
We work, in conjunction with a wonderful cake maker Victoria's Cake Company for all our bases and also produce Wedding Cakes with Macarons with her. Take a look at her link on the following page to see some of her stunning work.
Just contact us to talk through any of the huge number of possibilities that we can offer to make your special event that little bit more dramatic and eyecatching…..as well as tasty!
Or even if you just fancy a Macaron ..and, never forget, the Macaron is Gluten Free!