Delicious Macarons for Love, Laughter and Life!
Welcome to Maison des Macarons
We invite you to enjoy  some of the best macarons in the UK.  Our deliciously unique macarons are made every day especially for you. We have created a whole spectrum of exquisite flavour combinations and there are more surprising delights coming along all the time!
Based on the Northamptonshire & Leicestershire borders we can supply you with some of the best macarons in the UK including Macaron Towers, Macaron Towers with Cakes, Favours & Branded & Corporate Macarons.  We have also added our own beautifully hand-made Macaron Display Boxes for when one Macaron is never enough!  Each box, made in real wood and painted in soft-tone grey holds up to 96 Macarons and is displayed with raised feet underneath – all set off with cute Flavour Carved Labels.
We specialise in weddings and other celebrations and make a range of beautiful Favours from our delectable macarons, all exquisitely coordinated for your special day.  We also create stunning Macaron Towers with cakes and flowers and without. These Macaron Towers make stunning wedding cakes, or are perfect for your evening wedding event.  Birthday parties, hen parties, baby showers, they all lend themselves to some Macaron Love!  Beautifully coordinated with your colour theme our Macaron Towers make truly spectacular contributions –  add some flowers for that final flourish – we can arrange all that for you – and not only that they taste fabulous too!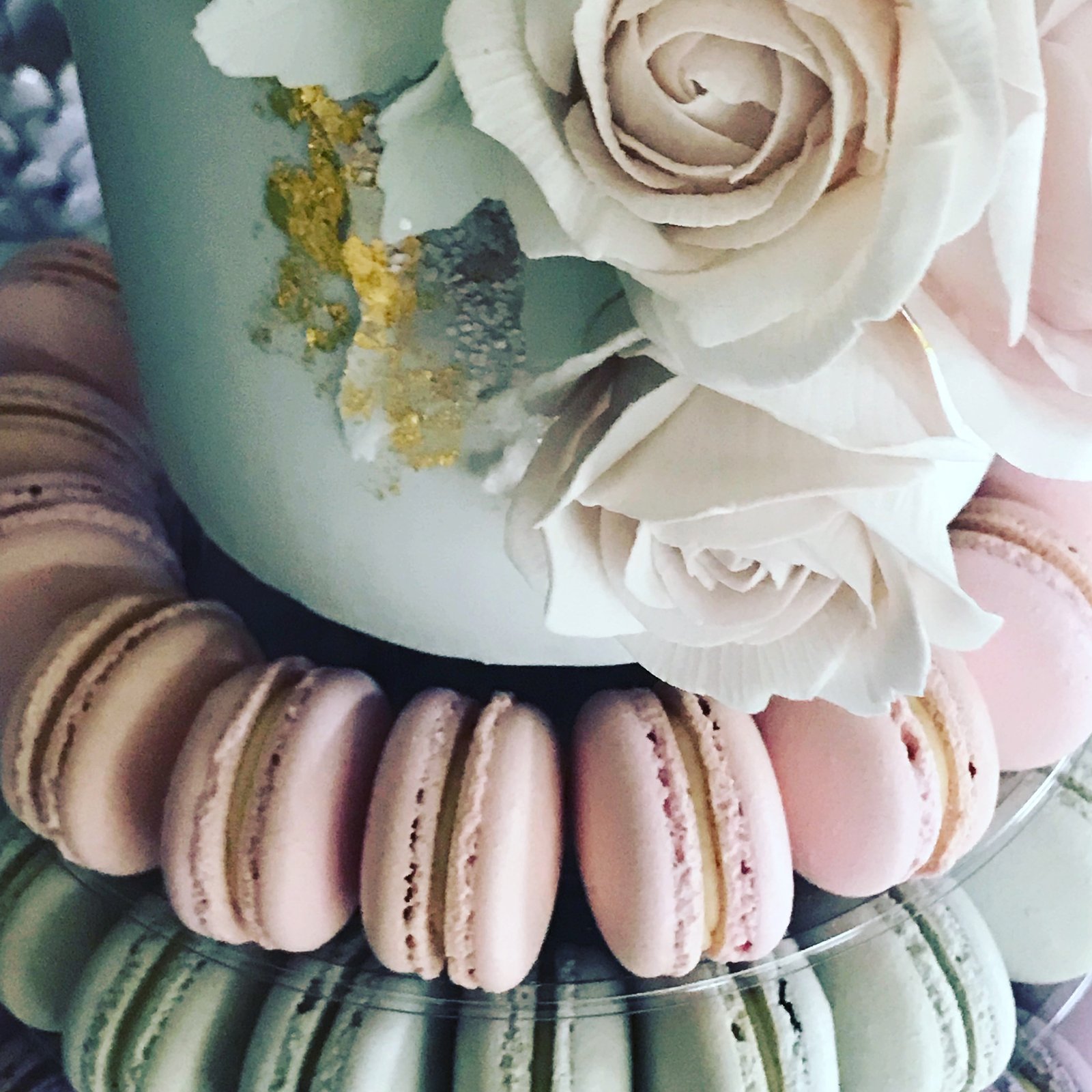 Branded & Corporate Macarons also feature highly in our bakery. – regularly for high-end London clients. We love working with our Corporate clients – having a background in PR, it comes naturally to us. One of our highlights this year has surely been one of our City of London clients who took our Macarons to Paris on the Eurostar! We were thrilled!
We were also thrilled to be chosen by Guerlain, the French fragrance house to make some stunning Macarons for the launch of their new perfume in London on 14th February 2019.  Made with beautiful Otto Rose ganache and topped with some fabulously crafted Roses, they were thrilled, as were we!
We always deliver personally – the Macaron is far too delicate to be trusted to the "delivery man"!    And just because we love what we do…we also offer Macaron Masterclasses! These are such fun events, lasting around 4.5 hours and include light lunch or afternoon tea and, of course, champagne! You will also leave having mastered the Macaron and with a box of your own Macarons to impress friends and family with!
So fill your life with love, laughter…..and macarons!