A SPECTACULAR MACARON TOWER
We have a range of different Macaron Towers which will ensure there is one to fit the theme of your particular event. Traditional, vintage or uber-sophisticated and with such a large range of colours available, you won't fail to find something that hits the spot!  A Macaron Tower is both stunning…..and divine and what's more….scrumptious!
We find the minimum number of Macarons for a successful Macaron Tower is around the 50 mark, but to be honest…..it's a case of the more the merrier…or at least….the more….the greater the impact. The higher the Macaron Tower, the more impact…..and also remember we can always add a cake base if you would still like something traditional to cut into!  Our cakes are supplied by a fabulous local cake maker who's ability to bake and attention to detail is second to none.  You can take a peek at some of her work on
www.victoriascakecompany.com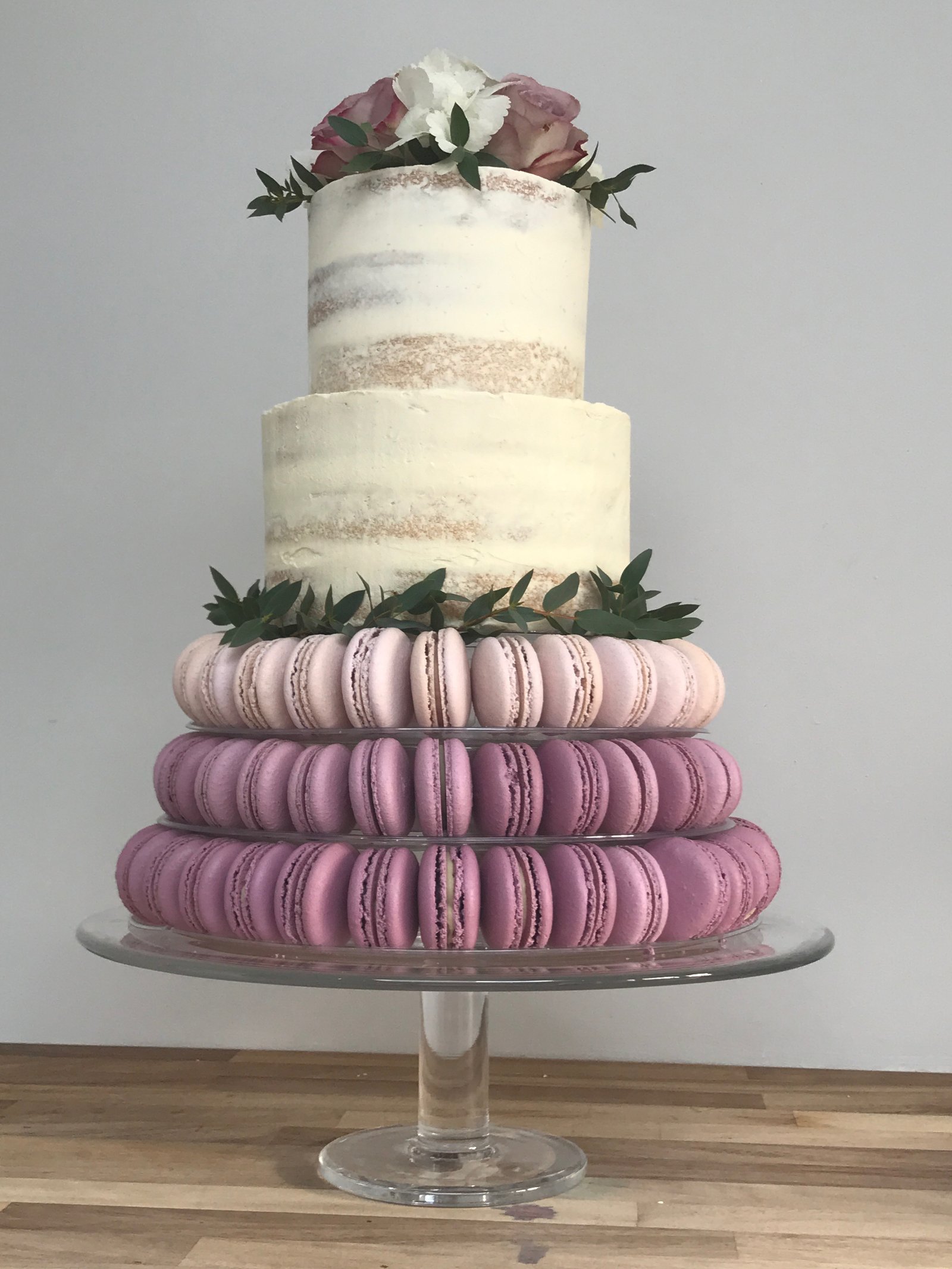 Our Macaron Towers come in a range of stunning different styles. All beautifully colour matched for your big day with our large list of flavour options. More than 40 flavours to tempt you including alcoholic ones. We're always adding more as we get excited by something different,  from Homemade Salted Caramel, Raspberry & Pink Peppercorn to Blackcurrant & Cassis and many, many more.
 We make towers with cakes, cakes with towers, towers with flowers or towers with cakes and flowers – whatever you can dream of, we can make it for you.
Our Macaron Tower fits into FOUR different categories
Silver  – A Macaron Tower with some mini-macs to finish off the top with some detail
Silver Macaron Towers start at £110.00 dependent on number of Macarons
Gold  – A Gold Macaron Tower has the addition of  floral decorations
Gold Macaron Towers start at £160.00 dependent on number of Macarons
Platinum  – A Platinum Macaron Tower has additional flowers and a cake base or small cake topper
Platinum Macaron Towers start at £260.00 dependent on number of Macarons
Diamond – A  Diamond Macaron Tower is the ultimate, with Italian La Perla plates stacked one on top of each other. These can hold up to 170 Macarons and can also have floral rings within them for that added WOW factor finish.
Diamond Macaron Towers start at £300 dependent on number of guests
Due to the fragility of the Macaron we like to be able to set up our Macaron Towers to see them perfectly installed for the "big day" and dependent on your location, there may be a delivery charge.
Contact us for more deetailed information and let us make your Macaron dreams come true!